Amaia Skies Avenida - LOCATION
Amaia Skies Avenida is strategically located in Sta. Cruz, Manila, sitting at three important road networks of D. Jose Street, Rizal Avenue and T. Mapua Street. The property is chosen by young professionals, students and business executives working in and around the metro for its accessibility to main transportation modes, such as the LRT 1 and LRT 2.   Jeeps, cabs and other public mode of transports are also available. That's good news to working professionals who do not want to show up late again.
Adding to the convenience, dwellers of these RFO properties are close to shopping and retail establishments, churches, schools and hospitals.
You can start your career high in the condominium property located right in places of lifestyle, modern living, proximity and convenience for work access, shopping destinations and educational institutions.

Shopping & Entertainment
JT Centrale
Fairmart
Odeon Terminal Mall
Republic Supermarket
Tutuban Mall
Ever Gotesco
168 Mall
Isetann
Arranque Market

Food & Dining
Wai Ying
Ambos Mundos
MaeSan
Golden Fortune
Sun Wah

Schools/Educational Institutions
Guzman Institute Of Electronics
Arellano High School
Mapua High School
Bethel High School
Dona Teodora Alonzo High School

Universities
Far Eastern University
Centro Escolar University
University of Santo Tomas
San Beda College
Polytechnic University of the Philippines
University of the East

Healthcare/Hospitals
UST Hospital
FEU Manila Clinic
Our Lady of Fatima
Clinica Arellano
Raha Volunteer EMS
Jose Fabella Memorial Hospital
 
Undoubtedly, Amaia Skies Avenida is at the center of it all – transportation,   shopping and entertainment, education, business and leisure, places of worship and so many more! When investing on a new property, location is one of the most important factors to put on top of your priority. Whether you're working or studying in Metro Manila, there is every mode of transport you're looking for in Avenida. In this condominium property, two LRT stations are nearby.
If you have just started a family, investing on a single-room unit is a smart choice. With a property of your own in a convenient location, you don't have to pay monthly rental aside from having direct access to places of importance and interest to give you that comfortable life. The Grand Opera Hotel is also nearby. It is a premier accommodation in Manila that offers city explorations and staycations.  This hotel is embellished with natural tones combined with the vintage look of Manila's charm.
Churches also abound.  Find the Basilica of the Black Nazarene in Quezon Blvd., the Manila Cathedral or the San Agustin Church in Intramuros, or the San Sebastian Church in Quiapo. There you have some key location features to expect when you invested in this top Philippine property.  Feel the convergence of modern lifestyle, convenience and interesting places to visit by getting one of the Amaia Skies Avenida units. Living in the middle of it all, experience a new way of life with family and loved ones now.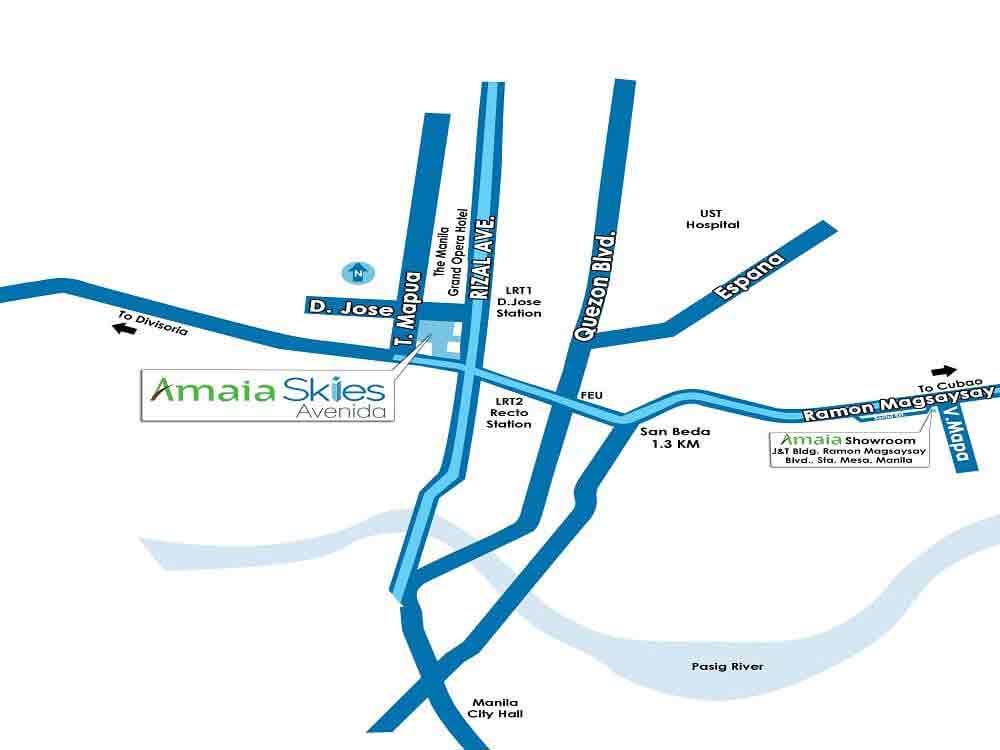 Note: Amaia Skies is centrally located in Sta. Cruz, Manila. It is bounded by 3 roads- Rizal Ave., D. Jose St, and T. Mapua St., and is highly accessible via public transport. In fact, both the D. Jose Station of LRT 2 and Recto Station of LRT 1 will take you there. Here, you are close to retail establishments, hospitals, places of worship, and educational institutions; FEU, UE, San Beda , CEU and other Schools nearby such as UST.